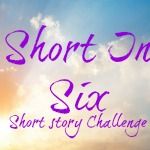 Hello and welcome to the Short In Six challenge brought to you by Louisa Bacio and Nikki Prince.
Short stories have become an important part of life for readers who still want to read but don't have the time to necessarily break out a novel and finish it. We readers (yep Louisa and I include ourselves in that) love to read on the bus, at work on lunch breaks, well just any time we have time to read. Not to say that we still don't love those long novels but with the way that life is…sometimes a short is where it's at.
So in that vein Louisa and I have decided to start a challenge for those who want to write a short story but need that little push. So what are we you say? We are the six month challenge to write a short. We are all about helping each other get it done. So come and join in on the fun.
The challenge starts April 2 through September 30, 2014. It is international as well and for romance stories from sweet to scorching hot.
Questions? Email us at Shortinsix@yahoo.com.